MESA Use Cases:
Examples of Using MESA-DER
MESA Use Cases provide examples of how best to use the MESA-DER Specification for achieving your goals. Do you want Energy Arbitrage? How can Schedules  be used? What about meeting the IEEE 1547-2018 requirements?
Grid-connected DER and energy storage systems benefit the electric power industry and all electric users, from the smallest residential customers to the largest industrial plants.

Communications are critical for managing grid-connected DER, and standardized communication specifications are therefore key to the deployment of large numbers of DER and ESS across all grids worldwide.
MESA standardized communication specifications clear barriers to this critical need for interoperability.

Through standardization of communication specifications, MESA accelerates interoperability, scalability, safety, quality, availability, and affordability in distributed energy resources (DER), in particular energy storage systems (ESS) and their components.
MESA-DER Use Case Examples
Use Cases explain how to use the MESA-DER Specification for various purposes
Energy Arbitrage Use Case
Energy arbitrage is the shifting of energy production from lower price to higher priced times, and the corresponding shifting of energy use from higher price to lower priced times.
In wholesale energy markets enabled by energy storage devices, energy arbitrage refers to purchase of energy when the prices are low and resale of purchased energy when the prices are high.
In the distribution system, energy arbitrage is exercised by the utility through tariffs that depend on the time of day and encourage consumers to shift their energy use from higher priced times to lower priced times.
It is therefore important to state that the Energy Arbitrage Use Case described in this document refers more to the use of energy storage devices to shift energy from one time of day to another and is thought to be the primary use case for energy storage devices especially when combined with a renewable energy source.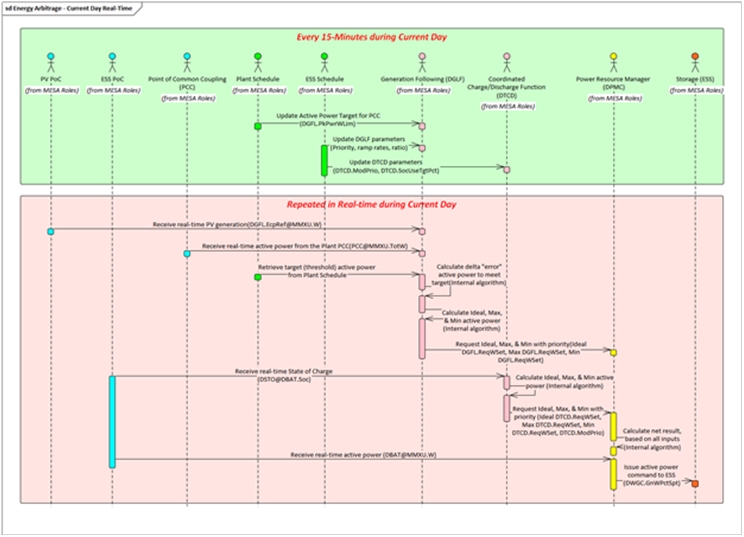 Send us an email:
info@mesastandards.org
What are the technologies within the MESA Specifications?
What are the Implementation Requirements?
Technologies and Implementation Requirements
Utility-DER-ESS MESA Specification
Testing and Certification of MESA-DER
TBD
MESA-DER Communications Testing

MESA-DER Functional Testing
Support for MESA-DER Implementations
TBD
Use Cases:  Energy Arbitrage – Scheduling