MESA Testing and Certification 
Testing and Certification of the MESA specifications is critical to achieve true interoperability. This effort is now underway for both MESA-DER and MESA-Device.

MESA-DER Testing and Certification
Testing and Certification of Communication Protocols is Critical. There is a great need for predictable integration and behavior among the various energy system hardware and software implementations to both increase confidence and reduce cost, and increase the adoption of distributed energy resources (especially energy storage systems), microgrids, and other energy management systems. The initial phase of the MESA-DER Testing and Certification program is now available. Click here for more information and to start the certification process.
National and international standards development and the related testing and certification programs can take a great deal of time to develop and gain adoption. As an industry member organization, MESA is able to move forward the interconnection of DER and particularly energy storage by providing a path to certify interoperability and provide predictable system integration and capabilities.
The MESA Testing & Certification Work Group, led by Pacific Northwest National Laboratory, is  developing a program to confirm compliance with the MESA-DER DNP3 specification. Phase 1 is complete and MESA is partnering with UL Solutions to implement a MESA-DER testing and certification program. Additional functional testing is under development.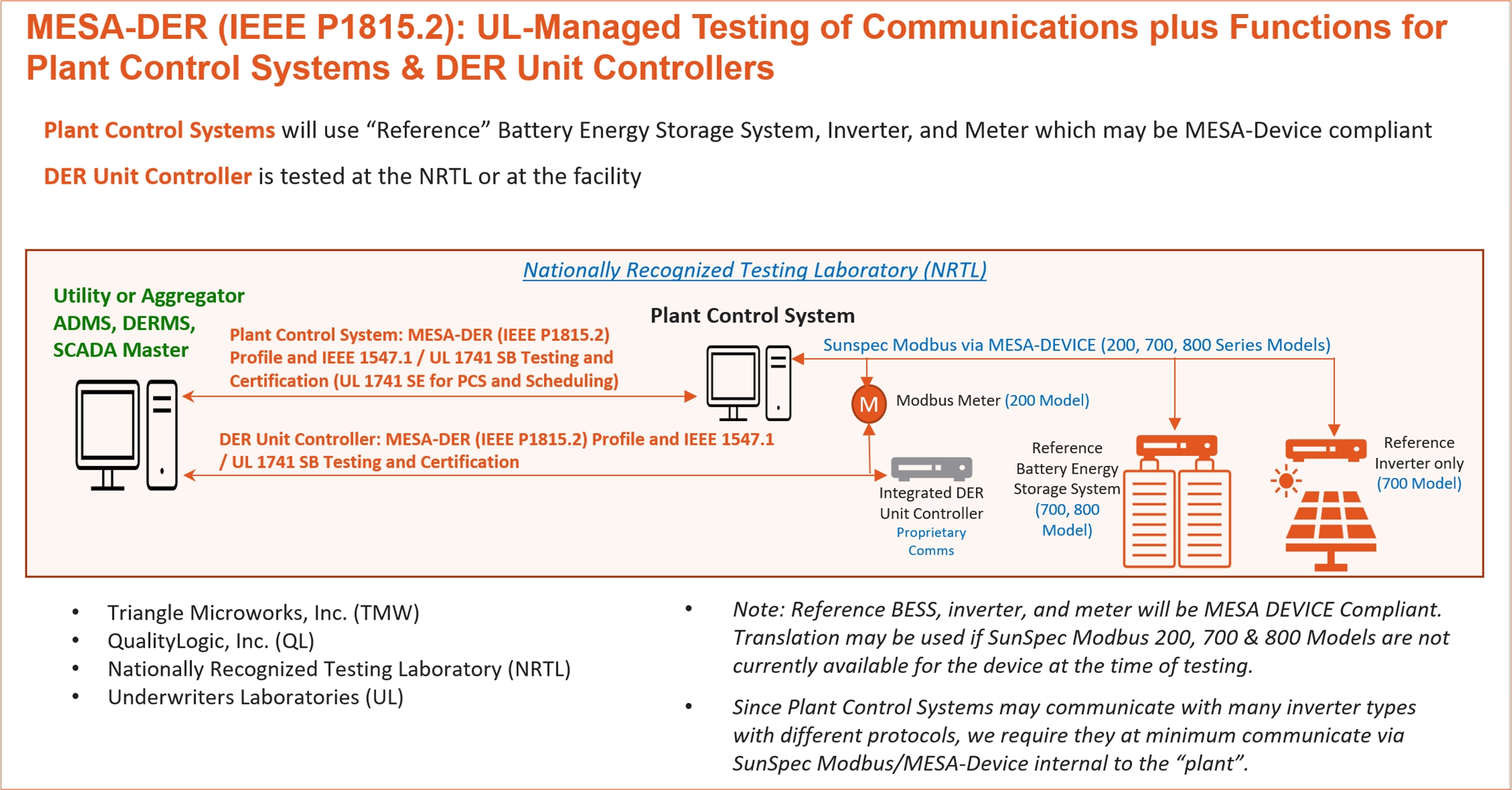 MESA-Device Modbus Specification
The MESA Standards Alliance and the SunSpec Alliance have developed a joint testing and certification program for the MESA-Device specification. Vendors can now receive certification via third-party authenticators, ensuring their products meet the requirements of this specification and will be interoperable with other certified components of energy storage systems (ESS). Compliance with the MESA-Device specification ensures greater interoperability among the components of the ESS (the inverter, power control system, and energy source (e.g., lithium-ion battery)) across the spectrum of distribution-connected Distributed Energy Resource (DER) scale ESS to large-scale transmission-connected ESS.
A new Specification Compliance Verification Guide is available and describes the process to verify inverter compliance with the SunSpec Modbus-based MESA-Device.
Contact us for more information and to begin the certification process